For the past two months, my team and I have been sharing daily doses of inspiration, learning and (hopefully) fun. Today, I wanted to share some recent market analysis from McKinsey and Company in regards to what the overall economic recovery may look like & the easing of restrictions to Shelter-in-Place.
Their outlook is that the COVID-19 crisis will be controlled and that we'll avoid long-term structural damage to the economy.
For additional economic information, Team Associate,
Paul Dobson
, CPA and Realtor, 
can assist with any questions
you may have about the analysis provided or tax concerns. Paul is an
incredible
resource
and you may reach him at
[email protected]
.
I hope you and your family continue to be safe and healthy.
~ CR & The Team
What will be the Economic Impact of the COVID-19 Crisis?
On April 28th, McKinsey & Company's Global Managing Partner, Kevin Sneader appeared on CNBC to discuss how his firm is advising multiple governors on when and how to reopen their states. In his words, the decision hinges on one question: how do you
reconcile the saving of lives with the safeguarding of livelihood? 
There's no easy answer. And with 70% of the US workforce unable to do their jobs from home, states need to consider how to make sure there is enough PPE, testing and contact-tracing in place to be confident that once they reopen, they won't have to shut down again.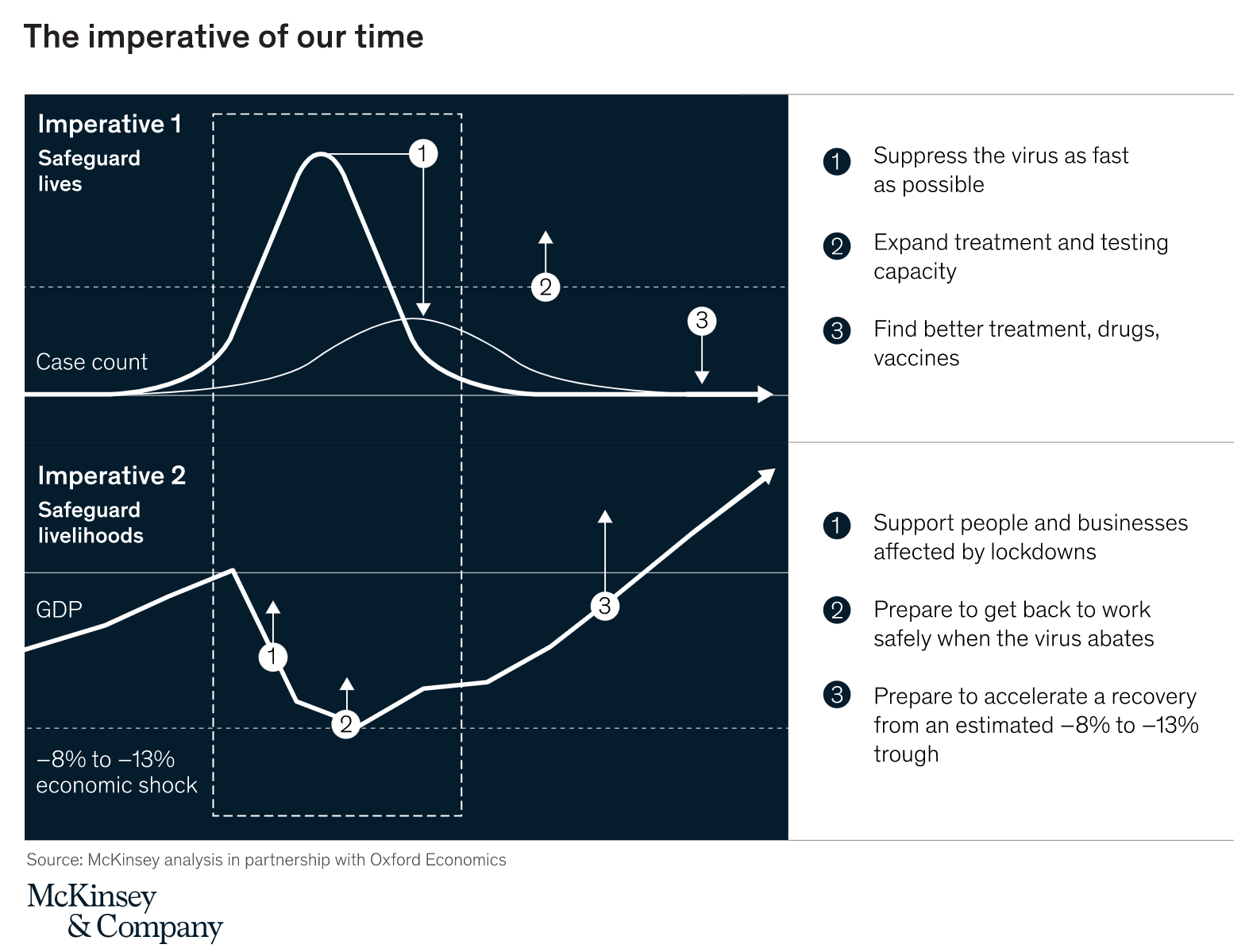 A recent survey of over 2,000 global executives showed that many expect the recovery to look like one of the scenarios shaded in blue below (A1–A4) which lead to a V- or U-shaped recovery. In each of these, the COVID-19 spread is eventually controlled, and catastrophic structural economic damage is avoided.
Almost one third of these leaders anticipate a muted world recovery where US GDP could drop 35-40% in Q2 of 2020 and won't return to pre-crisis levels until Q1 of 2023 (A1). A slightly more optimistic outlook was the second most anticipated scenario, reflecting
 virus containment by mid-Q2 of 2020 with an economic rebound following Q2 2020 (A3). [Source: McKinsey]
1.    Commercial Aerospace
      May take years to recover from production and              supply chain shortages
2.   Consumer Air & Travel
      Domestic recovery is likely to recover faster than            international travel
     Oil price decline driven by short-term demand               impact and OPEC+ decision to increase supply
4.   Insurance Carriers
      Reduced interest rates and investment                          performance impacting returns
5.    Automotive 
      Trade tensions and declining sales amplified by              acute decline in global demand