"Adopt the pace of nature. Her secret is patience."
Lamorinda is a word for the region comprising three cities in the East Bay: Lafayette, Moraga and Orinda. Sweeping views of hill and dale are attractive and refreshing for those who call it home. Also known for its highly rated public schools.
BART connects the region to other parts of the Bay Area with stations at Deer Hill Rd. in Lafayette and Camino Pablo in Orinda. It's a lovely ride on BART from SF to Orinda. (And there were a few times that I missed my Orinda stop entranced in a book or great news article!)
Centrally located in the East Bay hills, Lafayette exudes a quiet rural atmosphere and features a distinctive downtown. There is also an understated elegance to Lafayette that makes it noteworthy.
Orinda's farmers' market at the square was one of my favorites to go to when I lived in the area. It's currently closed, however, but the famed Moraga Farmers' Market is still open for business and they have some fabulous vendors with gorgeous produce and local honey.
If you're into
views
and even a bit of
hiking
, do head to 
Mount Diablo State Park
 – it's got some amazing trails and on a clear day from Mount Diablo State Park 'you can see more than 8,500 square miles and parts of 40 of California's 58 counties.' Maybe the Farallones too! And for the real-estate geek in you, did you know that Mount Diablo is one of the 3
principle meridians
in California?
Inhale, Exhale, and Breathe Deeply! Hugs! ~CR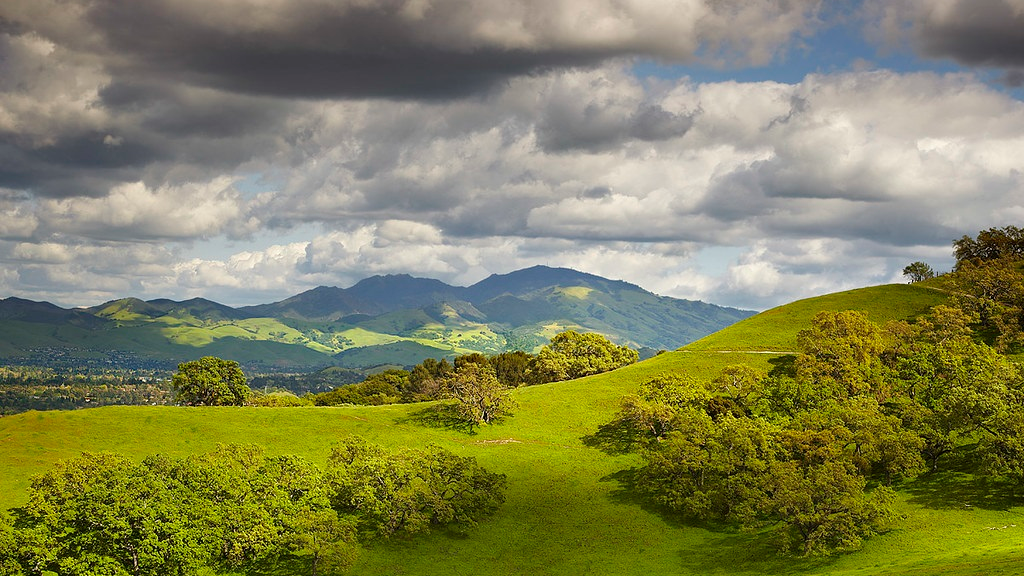 | | |
| --- | --- |
| | In addition to learning sustainable gardening practices at the site, you have the opportunity to learn about the local habitat displayed by the beautiful oak, bay laurel and other plants along the adjacent creek. Closed for non-members for Shelter-in-Place, but an excellent resource for future activities! |
| | |
| --- | --- |
| I'm always on the lookout for local nurseries and they are fabulous. Their selection of unusual, and hard-to-find indoor and outdoor plants, including their Bromeliads is excellent. Their staff is knowledgeable and helpful. Check out their website for curbside delivery instructions! | |
ACE Hardware | 3311 Mt Diablo Blvd

Stellar customer service and an amazing selection. One of my favorite hardware stores in the area, although no matter which store I've popped into throughout the Bay Area, I've always gotten great service. Open as an essential business and your go to for grout, Rahul!
| | |
| --- | --- |
| Yummy California comfort food. Take out available Tuesday through Saturday! Check their Instagram page (@thehideoutkitchen) each day for the menu. They take orders at noon so check before that!! | |
| | |
| --- | --- |
| | Recently renovated adding more picnic spaces and places for play. Currently closed for Shelter-in-Place, but an amazing community park with lots of open space, and who doesn't love a simple outdoor picnic for a breath of fresh air?! |
| | |
| --- | --- |
| A gem for Moraga and all Lamorinda locals. Offering unique coffee blends to to try and enjoy. Everything about it feels like being at home. The staff is so friendly and their espresso drinks are on-point. | |
| | |
| --- | --- |
| | A cozy restaurant for Italian cuisine. You may even get lucky and the piano will be staffed and playing! Try the polenta, mushroom soup, or Paul's favorite go-to dish: lasagna. Open for pick-up orders Tuesday – Sunday from 4:30-8:30PM! |
| | |
| --- | --- |
| Another great garden center! Their goal is to make customers successful gardeners. They even offer on-site consultations! Call direct to ask about availability during Shelter-in-Place: 925-377-6930 | |
| | |
| --- | --- |
| | A classic old-time movie theater that is the pride and joy of Orinda. Their popcorn is always perfect and while it is closed during Shelter-in-Place, keep it on your list, no matter where you live, to catch a flick in the future! And go early  to meander around the square as you never know what you'll pick up as a treat. |
The Fourth Bore Tap Room & Grill  |

2 Orinda Theatre Square, Suite 134

Known for their cheese curds (really!), but everything on the menu is tasty. They have certain household items available for take-out, in addition to their entrees and growlers. Check their website or call to inquire! And stop by post-SIP!!
99 Orinda Way

Various satay, ginger chicken, spring rolls, pra ram, & more – all extremely fresh and made at time of order. Offering curbside pick-up for orders during Shelter-in-place!!
196 Moraga Way

As a result of their established relationships with trusted growers and suppliers throughout California, they have a variety of both common and uncommon plants, trees & shrubs. Open only by appointment during Shelter-in-Place – phone first!! 925-254-3713