---
"Time flies like an arrow. Fruit flies like a banana.
"
— Groucho Marx
---
I love the phrase "That's bananas!" Fun, non-offensive, and colorful. But my sentiments these days are just that as sometimes it seems that "life is a bit bananas."
In the realm of bananas and today's world, I thought I would go back to levity and fun and jump on the banana bandwagon. In my home, we are on round 2 of home baked banana bread, planting banana succulents, and trying not to go bananas. The trifecta of bananas! 
The real estate market is back to being bananas and for the lending part of it, I'm on the fence – should I liken it to bananas foster (bananas on fire) or banana pudding (not congealing?) 
But let's forget real estate for a moment and get back to the business of bananas.  Did you know that there are over 1000 varieties of bananas?
 I remember travelling through Indonesia and biting into a banana with seeds and for a serious moment, paused, stopped chewing, looked down at my banana, and yes, there were seeds. Surprise for me and very normal actually!  From the Asian and Latin markets that I have always shopped at, I love the apple bananas and plantains as well as our Cavendish, but really that's only 3 varieties of bananas in the 1000 varieties to sample! The flavor profiles of bananas are different just like our colorful world.
So in a world ripe with bananas, grab a couple from your local grocery store and keep it simple. Add a banana to your smoothie, chop it up onto your pudding, or flambé a few with a little Hawaiian Rum. Because, when life hands you bananas, the creative always ask, "what can I do and how do we make it better?"
 Because even when it's bananas,
we always figure it out.
Eat healthy, be healthy, and laugh – A LOT!
 Big hugs! ~CR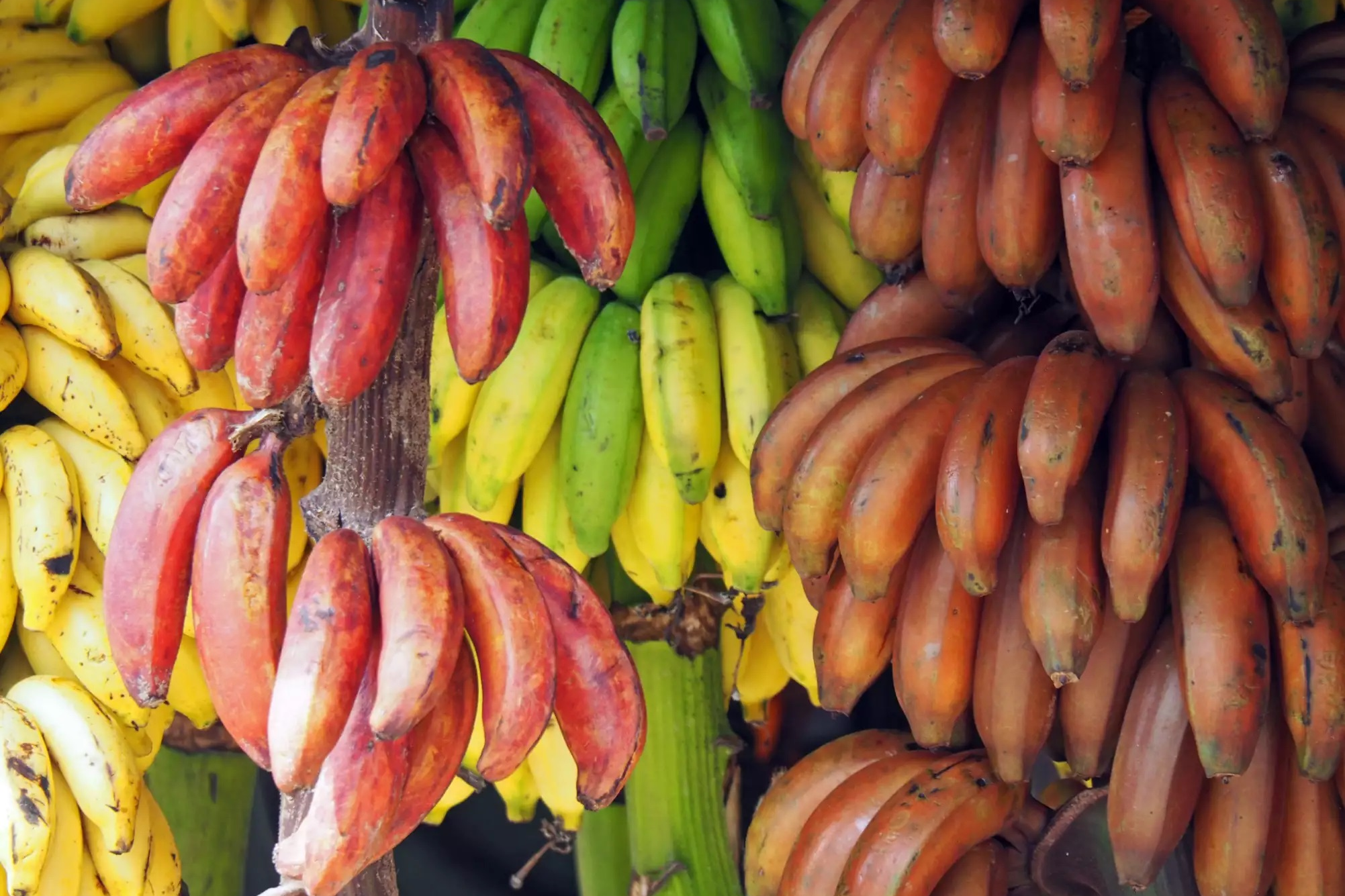 What all bananas have in common is a fairly starchy texture, a mildly sweet flavor as compared to other tropical fruits, and the wonderful ability to keep ripening after they've been plucked from their trees. Don't put them in the refrigerator, just use a paper bag for ripening!
Apple Bananas

 

Grown in the rainy tropical forests in Hawaii, Latin America and south Florida. Exceptionally sweet, their flesh is firm and has a slight pinkish tone. Perfect for snacking or using in desserts and is particularly well suited to adding to fruit salads and other raw preparations since it doesn't brown as quickly as other banana varieties.
Cavendish & Williams Bananas

The long yellow, slightly sweet bananas. They go from under-ripe green to perfectly ripe and still firm mellow yellow, to riper deep yellow with a brown spot or two, to super soft and browning. The perfect ripeness depends on personal taste and if they start going brown place them in the fridge to slow down ripening.
Lady's Finger Bananas

Smaller and sweeter than the ubiquitous longer, milder Cavendish. They can be used in the same way, but make particularly portion-controlled snacks, especially for kids.
Pisang Raha

Popular in Indonesia, where they are often used to make banana fritters. They are also known as Musa Belle bananas. Used often in Asian street markets, when hot and yes, dusted with sugar, it's a treat!
Red Bananas

There are many types, but they share two key things: they look super cool, and they tend to be on the sweeter side of the banana flavor family. Eat them out of hand or add them to dishes, but when they're red, they're ready to eat!  I think I've seen these at the Mexican markets and I'll pick these up to try the next time.
Plantains (aka Cooking Bananas)

Better thought of as potatoes than as bananas. They can be roasted, steamed, fried into tasty chips, and otherwise used like any starchy vegetable. They are sold green, and like many different types of bananas can be used as "cooking bananas" while they're still green and starchy. I saute when they are yellow in butter and top with honey.  Watch your temp so you don't burn the butter.
---
Banana Bread
A recent article, as part of BBC Travel's Culinary Roots Series, divulges the fact that banana bread is the most searched internet recipe since Shelter-in-Pace took effect worldwide. They theorize it is because bread, and banana bread in particular, is a tried and true comfort food. Furthermore, their writer explores the banana bread of Maui, widely believed to have the best banana bread on earth.
Eileen's Banana Nut Bread
---
1½ c sugar

¾ c vegetable oil

4 eggs

1 package (3.4 ounces) vanilla instant custard (pudding)

2½ c flour

1 teaspoon salt

½ tsp baking powder

2 tsp baking soda

3 c mashed bananas

1½ c chopped nuts
Preheat oven to 350°F (175°C). Spray 3 small loaf pans with cooking spray. Combine sugar, oil and eggs; mix well. Add remaining ingredients. Pour mixture into loaf pans. Bake for 55 minutes. Makes 12 servings.
Peaches Patties Fried Plantains
---
4 large semi-ripe plantains (with quite a few black spots; 2 1/3 lbs.)

1 1/2 cups vegetable oil

Salt (optional)
Peel plantains and cut each into 4 or 5 pieces on a diagonal.
Heat oil in a large frying pan over medium heat until rippling, about 5 minutes. Add plantains and cook, turning as needed, until deep golden brown and softened but not squishy when squeezed with tongs, about 15 minutes. Drain on paper towels. Sprinkle with salt if you like.
| | |
| --- | --- |
| | Like words AND bananas? Then look no further than Bananagrams. My sister introduced me to this super-fun game a couple years back and now I am hooked.  (And no, you can't look up words as you are working on your pieces Raine.) |
Banana Game (for driving)

You may be spending a lot of time in the car lately. Or you plan on spending more time in the car soon. Regardless, there's something called "Banana Game!" to assist with road trip travel blues.
---
Aside from us humans, all sorts of mammals enjoy eating bananas (including the Barbary Macaque of Gibralter pictured above). In fact, it is true that monkeys and gorillas love bananas as well. It's not just a cartoon fact – it's a real fact. We have some excellent and mindful zoos in the Bay Area where you can check out your favorite animals when Shelter-in-Place is over.
---
Sloat Boulevard at The Great Highway

A 100-acre zoo with more than 250 different species of wildlife from around the world, an old-fashioned carousel, a large nature-inspired playground and more. See

Chimpanzees, Howler & Colobus Monkeys, Mandrills and more. And f

ollow the zoo on Instagram to keep up-to-date with all your favorite animals during SIP. #BringingSFZootoYou
Nestled on 525 rolling acres are 660 native and exotic animals and several rides like "Serengeti Safari" and the "Outback Express Adventure Train" for the little ones. The zoo finished its California Trail last year which features a gondola ride. Visit

Vervey & Squirrel Monkeys, Chimpanzees, Tamarins, Baboons and more.

Also featuring behind-the-scenes interactive online content during SIP.
| | |
| --- | --- |
| | |