---
"
There is no sincerer love than the love of ice cream.
"
— George Bernard Shaw
---
It could be the weather, but I have been
craving ice cream
lately – a lot! Maybe it's because Summer is on the horizon? Or maybe I have a hankering just because it is delicious?!
Ice cream for many of us conjures up great memories. For me it's a sundae with an orange Fanta in an outdoor cafe with my sister and my mom after a Sunday Matinee in Sliema, Malta. Or riding in my father's car and traversing hills and bridges through Lancaster county, just outside of Philadelphia, to get a gallon of strawberry and mint chip ice cream. Ice Kachang in Singapore – amazing! Shave Ice on the North Shore?! I'm hoping that everyone has that special ice cream moment (or moments!).
Ice cream is a global treat, and with so many different versions:  Italian Ices, Banana splits, rolled ice cream, Gelato, Milk Shakes with real ice cream, ice cream sandwiches, popsicles, frozen fruit bars! I could go on and on as there are so many to choose from!! Ice cream shops are opening up and a big *yeah* to that!
Treat yourself to some ice cream!
 Smile, laugh, and dream big.  Huge hugs! ~CR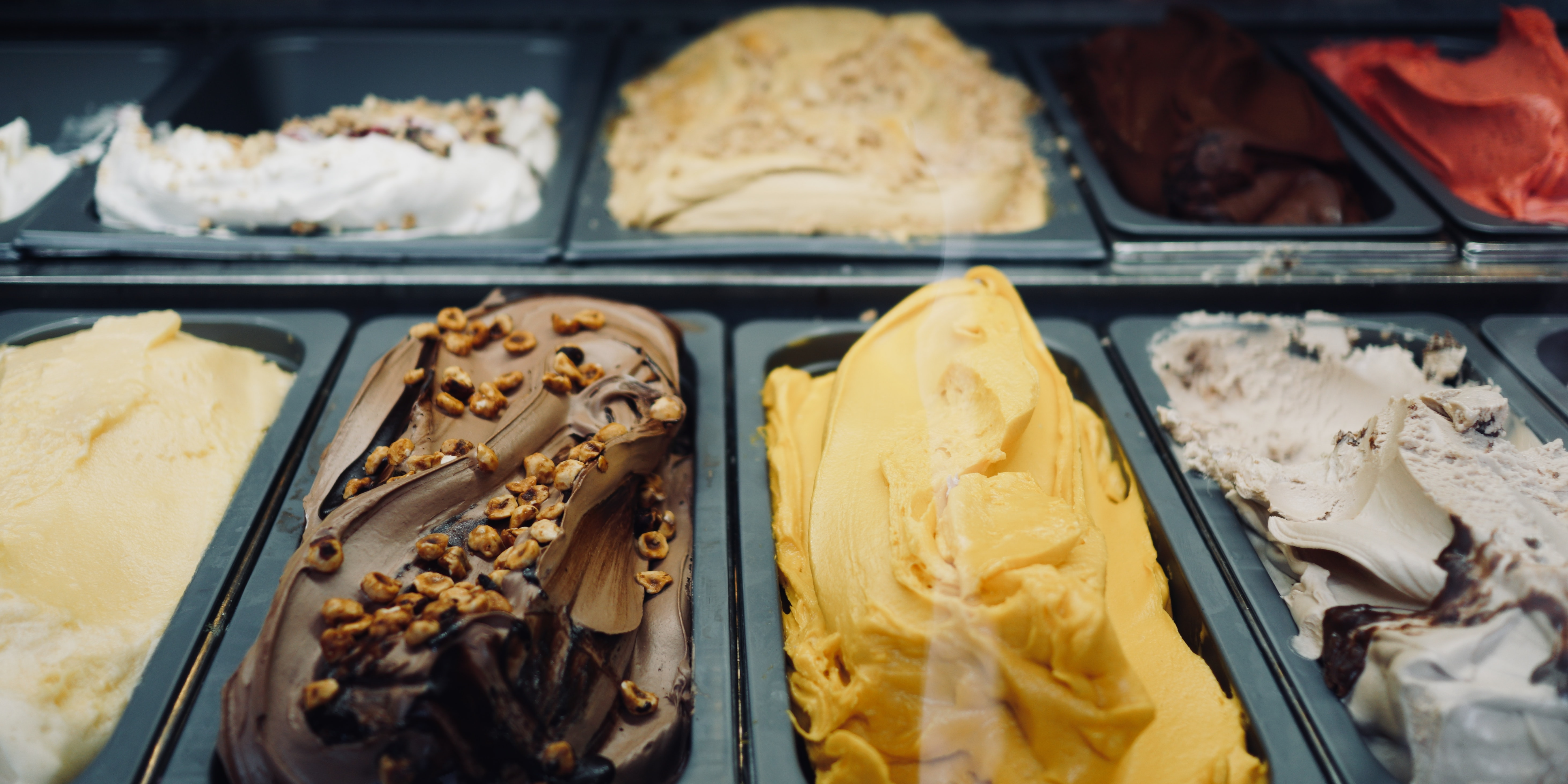 Here's a list of some ice cream varieties from around the world. Traditionally what we may know as "classic" ice cream is made with cream, milk, sugar and often-but-not-always egg. The mixture needs to contain at least 10 percent milk fat.
Of course, there are so many more types of ice cream, some which aren't even cream. Read on to find out more! Which one is your favorite???
Dondurma

Turkish ice cream is like nothing you've had before. The mixture includes salep flour and mastic, which make it thick and chewy, almost like taffy. But it's still malleable. It just has to be consistently churned and pulled. Watching street vendors do this is mesmerizing!!
I Tim Pad  / Rolled Ice Cream

Rolled-up strips of ice cream popular in Thailand, Malaysia, Cambodia, and the Philippines. The entire process — pouring the ice cream mixture, chopping, mixing add-ins (like strawberries, nuts, sprinkles), and perfectly spiraling the ice cream — only takes about two minutes. So good! Glad it is catching on in the US.
French Ice Cream

DID YOU KNOW: French ice cream always contains egg yolk. This is why "French vanilla" ice cream is always a little more yellow than regular vanilla. Probably why it tastes a little richer and should be eaten in moderation!
| | |
| --- | --- |
| | There's no dairy in this fruit-forward frozen treat, making it denser and much richer in taste than traditional ice cream. Sometimes there's even alcohol in the recipe to lower the freezing temperature and create its popular, soft-yet-icy texture. |
 

A delicious treat from India! More like custard than anything else. It's thick and dense and takes longer to melt, which makes it perfect for serving on a stick! Flavors are more on the savory side, with options like saffron, cardamom, and rose.
Snow Cream

Order ice cream in Taiwan and you'll get a dish of heavenly, fluffy sweets. Last summer, I was extremely lucky to visit and I loved this dish. After freezing a giant cube of milk and water, ice cream makers shave it into micro-thin strips and then top it with boba, fresh fruit, sweetened condensed milk, chocolate, and more.
| | |
| --- | --- |
| Iran's ice cream is blended with a mixture of rice noodles, rose water, sugar, and lime juice. An ancient Persian delicacy, faloodeh is a perfect frozen treat. Yummy! | |
Shave Ice / Ice Shave

If you've been to Hawaii, then you KNOW. The ice-based dessert is made by shaving a block of ice and then adding scrumptious flavors like guava, pineapple, coconut cream, passion fruit, li hing mui, lychee, kiwi fruit and mango.
| | |
| --- | --- |
| In Japan, dollops of ice cream are wrapped in sweet and sticky rice dough so you can eat it with your hands. Flavors most often available are green tea, red bean, vanilla, and strawberry. Easy to eat and very addictive (trust me!). | |
Gelato

Gelato hails from Italy. It ripples and forms imperfect scoops because it is very dense. That's because it contains a higher volume of milk than cream, and it's churned at a slower rate, which means less air is incorporated. There also tends to be no egg involved, so the flavor is more intense and pure. One of my favorites!
---
Ice Cream Around the Bay!
---
I have said it before and I will say it again – we are blessed to live in the San Francisco Bay Area – where international foods are in abundant supply. We can probably find one of the global ice cream types discussed above in a favorite neighborhood restaurant or cafe!
If you've been to any of the places mentioned below, let me know how you liked it! Or even better: send me an email with a recommendation of your favorite ice cream stop – I'm always on the lookout!
| | |
| --- | --- |
| I love this location in the Mission (one of the first!) and I love their flavors. On their website you can even see the current available flavors for any particular day or time. They even have FLOATS – my favorite isTahitian Vanilla Ice Cream with Orange Fanta. | |
Joe's Ice Cream| San Francisco

Another one of my go-to's, and not just because it is conveniently located in my 'hood. A feel-good- homey place with friendly faces and honest ice cream.
MYO Frozen Yogurt | Walnut Creek

Excellent selection of flavors and toppings. The possibilities are endless here because you can make your own sundaes! I mean, that's the best!
Gelato Classico| San Francisco

If you read the description of gelato above and were intrigued, here is one of the best places in North Beach to go to experience it first-hand.
Salt & Straw | San Jose

A unique chain available only in some regions on the East and West Coast. And fabulous! They have locations around the Bay Area, but the one in San Jose has my heart.
139 Berkeley Sq

Delicious ice cream AND made-to-order egg waffle? Sign me up! Whenever I am in the area and can splurge, I do so. Even better, they have teas and coffees as a pick-me-up!
Shuei-Do Manju Shop | San Jose

You deserve the best mochi and it is here that you will discover it. For nearly 70 years the business has been delighting taste-buds with their delicate sweets, which are made fresh daily. And if you are in the mood to try manju – they have that, too!
 Loard's Ice Cream | Orinda

230 Brookwood Rd

A true Bay Area classic, with plenty of locations to choose from. However, the storefronts in the East Bay get my vote for best ice cream stand, especially since their flagship creamery was in Oakland. Check them out in Moraga and Castro Valley as well!
Silbermann's | San Rafael

Longing for an ice-cream parlour? Silbermann's has been a Marin tradition since 1966. Originally a Swenson's shop, it was re-named with the owners' family name in 1989, but retains the old-school atmosphere and delicious house-made ice cream.