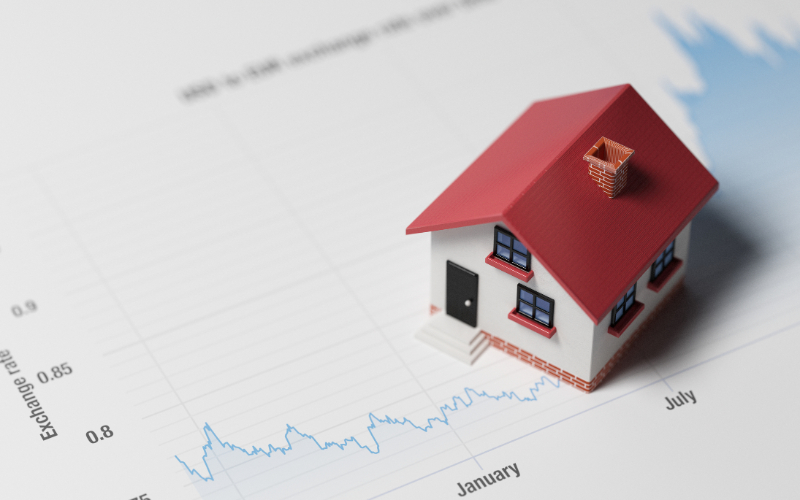 Home to some of the world's largest companies and institutions, it's no surprise that San Francisco is the economic and cultural center of Northern California. A dynamic metropolitan area and popular tourist destination, the city's population and real estate value has been on a steady incline in the past decade.
But with the Covid-19 pandemic causing major highs and lows in San Francisco's economy and real estate industry for more than two years, 2022 became a tumultuous process of adjusting to a new normal.
Are you planning to purchase or sell residential real estate in the city? Here's a deep dive into the factors and trends that shaped the San Francisco housing market in the past year and what to expect in 2023.
SAN FRANCISCO HOUSING MARKET OVERVIEW
SINGLE-FAMILY HOMES (2022)
Median sales price

$ 1,784,000

-1% year-over-year change

% of listings accepting offers

48%

12% lower than 2021

% of sales selling over list price

57%

24% lower than 2021

Average no. of days on the market

33

10 days more than 2021

CONDO PROPERTIES (2022)
Median sales price

$ 1,200,000

-2% year-over-year change

% of listings accepting offers

28%

16% lower than 2021

% of sales selling over list price

30%

25% lower than 2021

Average no. of days on the market

53

12 days more than 2021
(source:COMPASS San Francisco Real Estate January 2023 Report)
2022: THE YEAR OF RECALIBRATION
Riding off of the momentum from 2021, the San Francisco housing market began 2022 with record-breaking home sales and prices. Q2 2022 recorded a $2,000,000 median sales price for single family homes, while the condo market saw its median sales price reach $1,300,000 in the same period.
Extremely low inventory and rising mortgage rates quickly cooled buyer demand, however. This resulted in a steep drop in sales, a decrease in bidding wars, and an increase on the average days properties spent on the market. The same trend was reflected in home prices, which opened opportunities for weary buyers.
Home prices: historic highs and pandemic lows
The median sales price for single-family homes went down by 1% between 2021 and 2022. Although there's a slight decline on a year-on-year basis, San Francisco is still enjoying the highest property values the market has seen in history. From a median price of $619,274 in 2002 to $1,784,000 in 2022, property values have appreciated by a stunning 188% in the past two decades.
The city's condo market tells a similar story. Between 2021 and 2022, median sales price went down by 2%. But from a wider, historical perspective, the value of San Francisco condo properties have appreciated by more than 128% in 20 years, from a median sales price of $525,000 in 2002 to $1,200,000 in 2022.
Declining sales: a matter of perspective and seasonality
2022's 26% year-over-year decline in sales can mostly be attributed to the fact that in 2021, the city hit its highest 12-month sales volume in 18 years. Rising mortgage rates and low inventory had a hand in curbing buyer demand, but the sales volume for 2022 is comparable to – and even slightly higher than – pre-pandemic levels.
Moreover, the San Francisco housing market is seasonal. Market activity and sales reach peak activity during spring. It then declines during the summer, followed by a slight uptick in fall. In the winter season, the housing market cools with most buyers and sellers busy with the holidays.
Q4 2022: the seasonal slowdown in numbers
Median house sales price in Q4 2022 went down by 13.5% compared to Q4 2021, from $1,820,000 (Q4 2021) to $1,574,000. The median condo sales price declined by 12.5% within that same time period, from $1,279,000 to $1,118,000.
The sales volume in Q4 2022 decreased by 42% compared to Q4 2021, while average days on market jumped from 34 to 44 days. Luxury home sales, in particular, went down by 52% compared to the last quarter of 2021.
Highlight: San Francisco's condo housing market
In the Bay Area, San Francisco County is the only housing market where condo sales are higher than single-family home sales: 3,265 condo unit sales compared to 2,26 home sales.
The Greater Downtown/South-of-Market District, the city's largest condo market, was affected by factors such as remote work and the subsequent emptying of office buildings, lay-offs in the tech industry, and the closing of local businesses. As a result, the market saw the following trends:
Longer time spent on the market. Buyer demand decreased in the Greater Downtown/South-of-Market compared to the rest of San Francisco. Condos in the district spent an average of 72 days on the market before accepting an offer, while condos outside of the district only spent an average of 44 days on the market. The properties in the single-family housing market, on the other hand, spent an average of 31 days on the market.
Prices went down. Between Q4 2021 and Q4 2022, the median sales price for two-bedroom condos in the Greater Downtown/South-of-Market District went down by 19%. This is a substantial drop compared to the median sales price in other areas in San Francisco, which only declined by 4%.
Buyers had more negotiating power. Condos throughout San Francisco were sold slightly below its original list price in 2022, meaning that most buyers were able to negotiate for a lower sales price. For the Greater Downtown/South-of-Market district, most condo properties sold for 95% of the original list price, while condos in other San Francisco areas sold for roughly 98% of the original list price. There was a higher demand for single-family homes, with most selling for 102% of the selling price.
DEEPER INSIGHTS INTO THE SAN FRANCISCO HOUSING MARKET
It cooled faster than the rest of the Bay Area
According to The San Francisco Standard, San Francisco County had the biggest decline in median home prices in the Bay Area. While home prices in other counties went down by 1-2%, median home prices in the city recorded a 9% decrease by the end of Q3 2022. This was the first year-over-year quarterly decline in the city's single-family housing market since 2019.
Although seasonal slowdown was expected, it was exacerbated by record-high interest rates, inflation, low consumer confidence, and stock market volatility. All of these factors, combined with a real estate market that was still recalibrating after the pandemic housing frenzy, contributed to the rapid cooling of the San Francisco housing market.
Throughout 2022, the weekly average 30-year mortgage rate rose from 3.11% to 6.42%, reaching a peak of 7.8% in November before decreasing slightly in December.

The consumer price index, which measures the rate of inflation in San Francisco, dipped from 7.5% in January to 7.1% in November. It reached its highest point of the year in June, at 9%. Overall, the consumer price index showed a stark increase compared to January 2020, when it was just at 1.4%.
Should you be worried about a housing market or mortgage crash? According to Patrick Carlisle, the Bay Area chief market analyst for COMPASS, the answer is no. Home prices only seem to have fallen drastically because they are compared to a year when they reached historic and unprecedented highs. When you compare late 2022 figures to pre-pandemic years, the market performed relatively well. Moreover, mortgage delinquency rates – which are one of the main indicators of market instability – are at its lowest levels in history.
Why does San Francisco have a low housing supply?
The Covid-19 pandemic sparked large-scale migration from metropolitan cities and urban centers to suburban and rural towns. From 2020 to 2021, around 128,000 residents moved out of the San Francisco metropolitan area. Active listings also shot up to 1,847 in October 2020, its highest record in the past five years.
2022, however, told a different story. According to LinkedIn's Workforce Report for January 2023, the San Francisco Bay Area gained the most workers in the last 12 months. They came from out of state, mostly Los Angeles, California and Dallas-Fort Worth, Texas. The number of people filing change of address forms in the city – an indicator of out-migration – have also gone down to 12,000 in 2022, from 18,000 in 2021 and 48,000 in 2020.
This gradual influx of new homeowners and residents partially explains why housing supply is struggling to meet demand despite cooling sales. The beginning of 2022 saw its lowest number of active listings (562) since April 2020 (419). Increasing mortgage rates helped bring this number up to 1,411 by October 2022, but it is still a far cry from the number of active listings in October 2021, which reached 1,847. The year ended with 826 active listings.
Another reason why housing supply remained low is the fact that many homeowners are choosing to stay. Many sellers are home buyers as well, but with mortgage rates as high as they are now, homeowners have become extremely cautious about selling their home and giving up their lower rates.
San Francisco might become a more buyer-friendly market in 2023
Although 2022 was a challenging time for the San Francisco housing market, buyers might have better luck this year.
There is growing confidence in the market, with the Home Purchase Sentiment Index (HSPI) increasing by 16% since October 2022. Many attribute this to the slight decline in interest rates and average home prices in November and December.
Moreover, with home sales and demand on a steady decline throughout the past few months, housing inventory continues to recuperate, albeit slowly. Price adjustments are becoming more common, opening windows of opportunity to aspiring San Francisco homeowners.
If this trajectory continues, buyers might have more housing options to choose from and less bidding wars. And although property values are going down a little, it is a necessary consequence of the market correcting itself. Sellers may need to manage their expectations and be more realistic about pricing and preparing their home for sale.
KEY TRENDS THAT INFLUENCED THE US HOUSING MARKET IN 2022
As one of the major centers of technology, culture, and finance in the country, San Francisco is emblematic of the bigger and more complex trends that happened in the US as a whole. Understanding the real estate industry from this wider perspective can help you see how the San Francisco housing market was influenced by – or differs from – macroeconomic factors and real estate trends that affected the country.
Existing home sales declined
In their report on existing-home sales for October 2022, the National Association of Realtors (NAR) reported that home sales dropped by 28.4% year-over-year. This is because many homebuyers weren't able to secure a mortgage due to higher interest rates, especially in high-value areas and cities like San Francisco.
Many industry experts predict that home sales will continue to decline. Because of current housing affordability issues and high mortgage rates, demand might still be relatively low in 2023. Redfin, in particular, estimates that existing home sales this year will be 16% lower than the existing home sales in 2022.
Low mortgage applications
The Mortgage Bankers Association reported that the mortgage application volume went down by 1.9% in December. This indicates that less people entered the market, possibly due to the higher monthly borrowing costs and still-high real estate prices. Meanwhile, those who applied for refinancing increased by 5%.
Some experts and analysts are predicting that mortgage rates might decline soon, given its slower trajectory in November and December 2022. Redfin, for example, notes that mortgage rates can fall anywhere between 6.5% to 5.8%.
Home prices held steady
Halfway through 2022, many buyers were hopeful that the anticipated real estate market correction would also cause prices to go down. While it did happen in some cities like San Francisco, it has yet to happen in other areas. Moreover, supply for existing homes decreased by 0.8% in October 2022, with many homeowners postponing their plans to sell so that they can lock in favorable mortgage rates.
Aspiring home buyers can still hope for the best, however, since real estate prices are expected to fall in 2023. With sales declining month over month, it's only a matter of time until home prices drop as well. According to CoreLogic's Home Price Index Forecast, November 2022 saw the lowest rate of home price appreciation in two years, at 8.6%. On a year-over-year basis, they expect home prices to decrease by 2.8% between November 2022 and November 2023.
SUMMARY
Beginning with heightened homebuyer activity and ending with a significantly cooler market, 2022 marks the end of a turbulent 10-year upcycle in the San Francisco real estate market.
The pandemic boom in late 2020 and throughout 2021 exacerbated many seasonal trends in real estate. This partly explains the drastic year-over-year changes in sales volume, median prices, mortgage market activity, and other indicators of buyer demand. Other macroeconomic factors also contributed to the sudden cooldown, such as inflation and high increasing interest rates.
It's still too early to accurately determine the major headwinds that the San Francisco housing market will face this year, but buyers can expect to make great deals if they negotiate well and assertively. Sellers, on the other hand, are advised to be more strategic when it comes to pricing, preparing, and marketing their home.
Explore the San Francisco housing market with Carol Reen
Consistently ranking among the Top 1% of real estate agents in San Francisco and San Mateo Counties, the Carol Reen Team will help you find and negotiate for the perfect home in San Francisco.
Under Carol Reen's leadership, our team takes on real estate transactions with an empathetic and client-centric approach. From calculating price points and costs to analyzing the latest market trends, we go above and beyond our clients' goals and expectations.
Here's a snippet of a review from one of our amazing clients, Matthew D.:
Carol kept our expectations in check when we would begin falling in love with a new listing on Compass, applying her strong background in appraisals to reveal the true price of a home listed at a lower, more appealing "market price." When we did find our condo (after only 2-3 months of searching), we made an offer at a price point backed by the research and process of Carol and her team. The home ultimately appraised for slightly more than their assessed value, so we didn't pay a dime over the 20% down payment we planned for (and we've already made money on the property). On top of that, Carol's connections on the financing side of things scored us an unbelievable 2.125% rate on our mortgage, which I still celebrate every time I go to make a mortgage payment!

I am grateful for the introduction to Carol and I very much plan to work with her and her team again when we transition to a new home some years into the future.
Ready to face the San Francisco housing market in 2023? Let us do the work for you. Call us today at 415.728.6199 or send us a message here!